4 December 2019
Ranking of the best coworking spaces in Paris
Mickael Jakubowicz
Community Builder at Schoolab
As remote work and freelancing , Paris is home to more than a hundred coworking addresses. Here are our favorite collaborative workspaces and coworking spaces in Paris !

Original coworking spaces in Paris
The Bureau, located in Paris 8, is certainly the most chic coworking space in the capital, with views of the Seine and the Eiffel Tower. The services go hand in hand with the standing of the 2700 m2 of the place: concierge, dyer, gym, piano … Prices start from 450 euros per month.
In a completely opposite style, the coworking offices of La Ruche (Paris 20) offer more than 3200 m2 of work and living space, in a cozy atmosphere, for professionals who carry a social entrepreneurship project. The "full-time" formula starts at 350 euros per month and includes unlimited coffees and teas, high-speed Internet, a nap room, training sessions…

Coworking coffees
This alternative, more intimate, gives access to coworking cheaper in Paris, because you pay by the hour or by the day.
The excellent reputation of the Anticafé (Paris 3), a coworking space in the centre of Paris, is no longer to be demonstrated. The rate is based on the time spent on site; the first hour costs 4 euros, and the following hours are 3 degrees. This award provides access to an all-you-can-eat projector, printer, high-speed wifi, library and tea/coffee.
The other good coffee-coworking addresses in the centre of Paris are the two sites of 10:10 (Paris 2 and Paris 3), the "most kools of Coworking Cafés" at the rate of 5 euros per hour or 25 euros a day. The price includes all-you-can-eat snacks, HD wifi, printers, concierge…

Free coworking spaces
The "4 Casino" is a secret of Polichinelle since it is a free coworking space in Paris. The coworking offices occupy an entire floor in this 24/7 store located in a central location in Paris 8. The workspace is furnished with large tables and sofas to feel as good as at home. On-site, you get printers and free wifi.

Coworking space chains
Scattered throughout Paris (coworing spaces in Paris 2, Paris 8, Paris 9, Paris 10, Paris 18), the coworking offices of the Morning Coworking chain have a sleek design to unleash your creativity. On site, you have access to entertainment (breakfasts, aperitifs, conferences…), concierge service, and high-speed wifi.

Among the coworking space chains, you can also turn to the fifteen coworking spaces of the American giant WeWork, with minimalist design and space between Paris 3, Paris 8, Paris 9, Paris 12, Paris 13, Paris 15, Paris 17, Paris 19. Prices for unallocated workstations range from 300 to 470 euros per month, and those for private offices between 840 and 7500 euros. The price includes high-speed wifi, meeting rooms, free drinks, printers… WeWork also makes its entire network of professionals available.

Schoolab Innovation Studio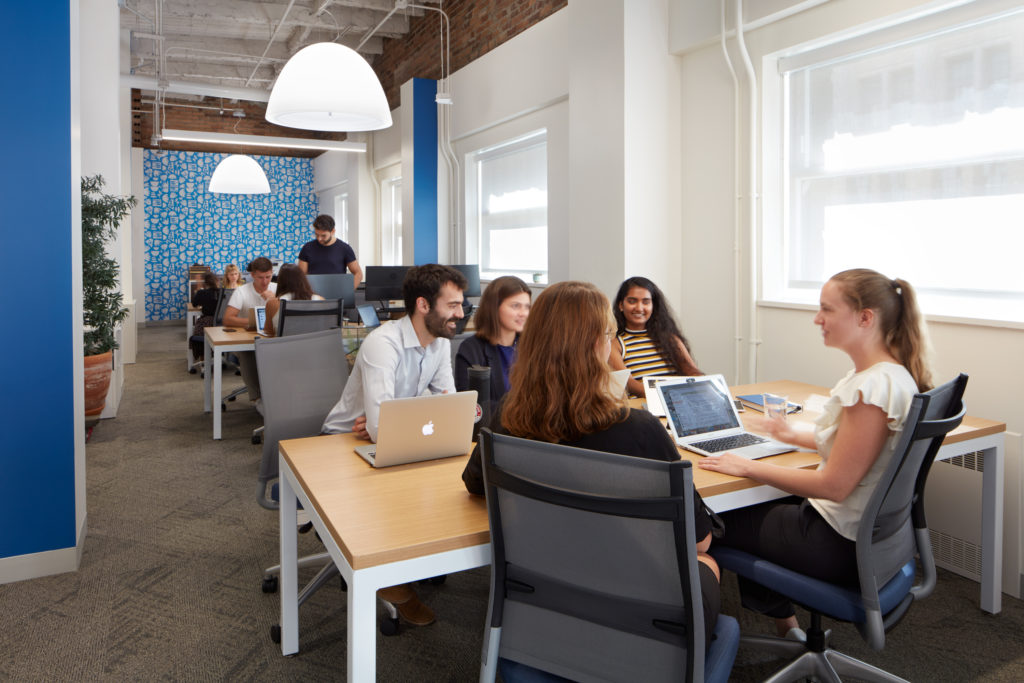 Schoolab has its own vision of coworking spaces and has designed its Innovation Studio as a mixed place that differs from traditional coworkings. Of course, in the 1800 m2 occupied by the Schoolab at 21 rue de Clery (Paris 2), we find the "classic" facilities of a coworking space in Paris (meeting rooms, open access kitchens, the Schoolbar with its 100% local and organic catering offer , high-speed wifi, relaxation areas…) so that entrepreneurs enjoy excellent working conditions.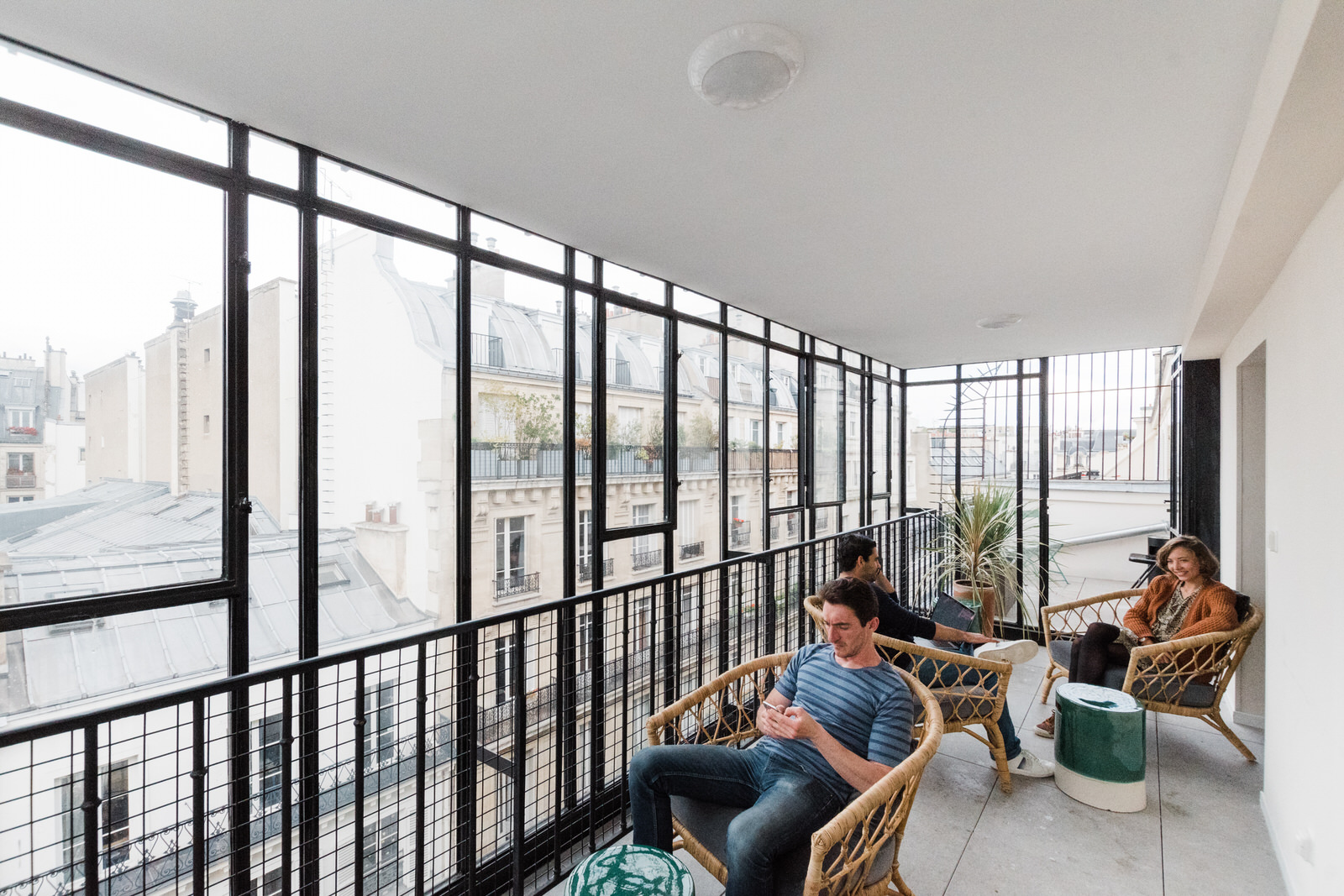 However, entrepreneurs come first and foremost to join an open-innovation ecosystem and benefit from the experience of the Schoolab's multidisciplinary teams; these support the development of each person's business and innovation project (Growth Hacking, Sales B2B, Marketing, Design UX/UI…). "Going into Schoolab's Innovation Studio allows you to grow personally and grow your structure," concludes Mickael Jakubowicz, Community Builder and Pitch Trainer at Schoolab.