20 May 2021
Solving Vietnam's takeaway plastic and food waste issues: Golden Gate Group
Quentin Frécon
CEO at Schoolab Asia
Despite being a leading Food & Beverage corporation with nearly 400 restaurants across Vietnam, Golden Gate Group has never lost its pioneering spirit, especially when it comes to innovation and how it can become a better business: both for itself and for the environment.
Along with Schoolab Asia, Golden Gate Group believes that true innovation can only come from our future citizens: the students. Thus, in the past four months, it was with great joy that Schoolab Asia was able to connect Golden Gate Group with young innovators from Bach Khoa University through their student-corporate sustainable innovation program, Deplastify the Planet.
Deplastify the Planet is a first of its kind in Vietnam, partnering established companies with innovative students to drive change. During the first edition of Deplastify the Planet, Schoolab Asia was able to witness and admire Golden Gate's passion for business and innovation lying in two major issues: takeaway plastic utensils and food waste. 
Throughout the four months of Deplastify the Planet, the talents of Bach Khoa were accompanied by professionals at Schoolab and Golden Gate Group while navigating their way through using Design Thinking to problem-solving. From market research to prototyping along with our partners, Golden Gate Group never fails to impress with its enthusiasm for sustainability.
Takeaway plastic
Golden Gate Group owns some of the most well-known and most popular restaurants in Vietnam like Yu Tang, Kichi Kichi, and Manhwa. This all comes with a cost: plastic, plastic, and plastic.
Once a product is ordered for takeaway or delivery, plastic is omnipresent in every step of the process: from the box containing the food, the plastic bag used to carry the box, to the plastic utensils that often are unnecessary since the meal is delivered to a company or home. With this context in mind, the Golden Gate team came up with one of the hardest challenges of the Food & Beverage industry: building an ecosystem that eliminates the need for single-use plastics in takeaway and delivery services.
Such issues cannot simply be solved with a product, and so the team at Bach Khoa did not disappoint by introducing an end-to-end service that allows for a complete cycle of a delivery/takeaway journey. The developed solution not only helps reduce the amount of plastic being put out to the environment but is also cost-conscious in helping Golden Gate Group cut the cost of buying single-use utensils, all while increasing the user experience by erasing the fear surrounding chemical in the process of manufacturing single-use plastic.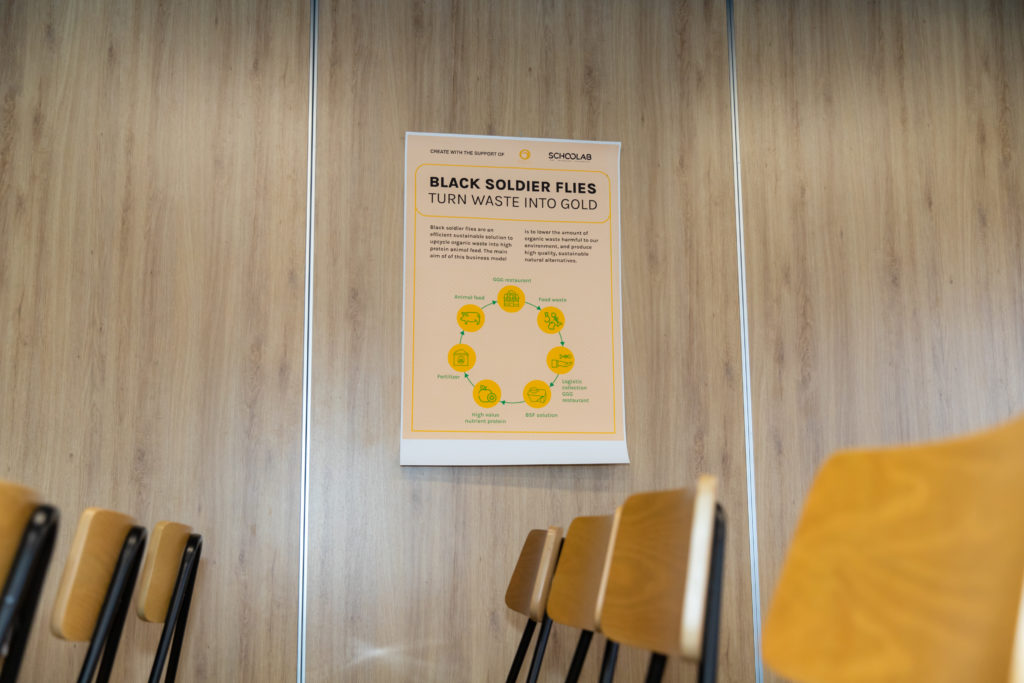 Food waste
Owning nearly 400 restaurants, most of which have buffet components, Golden Gate Group has to deal with one of the most common crises the Food and Beverage industry has to face: the abundance of food waste. However, Golden Gate Group actually did something about it.
With systematic food waste like the one that Golden Gate Group's restaurants produce, it can be overwhelming to compost or turn into animal feed, which are traditional methods for processing food waste. Therefore, a much more sustainable plan to process food waste is much needed, not only for Golden Gate Group but also for the exponentially growing Food & Beverage industry in Vietnam.
Through Deplastify the Planet, the innovators of the Ho Chi Minh University of Technology have curated a prototype that allows for mass volumes of food waste to be upcycled into organic materials. With this project, Golden Gate Group not only has a solution to the food waste crisis but also a new business model with profit by creating an ecosystem around their existing businesses.
Sustainability has helped Golden Gate Group save money and develop healthy solutions for the future of Earth, how about you?
Deplastify the Planet is a program connecting students and corporates, allowing university students to approach real-world challenges, and corporates to get creative and innovative solutions from these fresh perspectives, all while building a more sustainable future.
Join Deplastify the Planet today as a sponsor, corporate partner, university partner, or coach.
Write us for more information: innovation-sustainability@theschoolab.com!
Schoolab Asia also offers services in consulting, team-building, workplace experiences, as well as open innovation programs.